FSP News - August 2009
FSP News - August 2009
A Taste of Porcfest
If you missed the 2009 Porcupine Freedom Festival, you can still enjoy parts of it via the Internet:
Jason Sorens' address
Tennyson McCalla's photos
Merchandise
We see the embattled rebels, sheltered from the freezing rain and howling winds in the basement of their crenelated hideout. A valiant group of freedom-fighters, with the fire of truth blazing in their eyes and a raging inferno of justice burning in their gut, fueling their struggle for the American Way. The crackling fire paints their shadows on the wall, making black, empty sections in the brick wall, mirroring the empty families and incomplete cliques created by their choice to defend the freedom of all by risking their own. "It's time", one of them says and they huddle closer together. The static coming from the small radio brings them hope. The outside world does exist, there is more than just this struggle, there are those who are not hip-deep in mud and blood every day. They have help, they have friends, they indeed have hope that one day the struggle will be over. That the warm sun of liberty will shine on everyone, and everyone can get back to living their own lives. Lives without a boot on their neck, a hand in their purse, nor an eye - everywhere. "They're starting the broadcast". All ears bend towards the speaker as they listen for news, instructions, or a call for help. "Bzzt, bzzt, and now a message for the remnant underground:" "The cows go west, the cows go west"; "Tiffany is lost, Tiffany is lost"; "White roses bloom in red hats", "White roses bloom in red hats"; "The FSP Store has great items", "The FSP Store has great items"; "Older PorcFest shirts are dirt cheap", "Older PorcFest shirts are dirt cheap", "Over thirty items for sale", "Over thirty items for sale"; "The porcupine is free", "The porcupine is free". "Bzzt, Bzzt that's all the news for now to our brave patriots, braving storms and risking life and limb, we close now as always: May your sights be true, your path be clear, and may we all have Liberty in Our Lifetime - station PORC signing off".
http://www.freestateproject.org/store
The "Free State Audi A4" finds a new home abroad...
by Brian Wright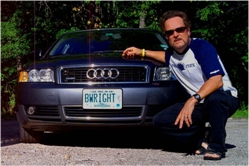 Don't Throw Mama off the Turnpike: Brian Wright, early mover and author of New Pilgrim Chronicles—a diary of his Free State experience—has just
published/posted another road story, in which he travels with his mother ("Mama Bear") to sell his prized "Free State Audi A4," the vehicle that brought him to New Hampshire as an early mover in 2005. Pamphlet copies of the humor piece will be available courtesy Dan Stuart at the Freedom Rally, August 21.

"Don't Throw Mama off the Turnpike" has been posted on Wright's Coffee Coaster site. It is several pages long, but can be downloaded and printed for free as a PDF file here.
---
The Free State Project is an effort to recruit 20,000 liberty-loving people to move to New Hampshire. We are looking for neighborly, productive, tolerant folks from all walks of life, of all ages, creeds, and colors who agree to the political philosophy expressed in our Statement of Intent, that government exists at most to protect people's rights, and should neither provide for people nor punish them for activities that interfere with no one else. freestateproject.org
---
In New Hampshire
Open Carry at (or rather, near) a Presidential Rally
FSP participant William Kostric raised quite a ruckus by openly carrying a sidearm near a place where the president would soon hold a town hall meeting. Kostric's actions were both legal and nonviolent. Regardless of those truths, the media went a bit nuts.
CBS Inside Edition short article
NECN article and video
Chris Matthews video
The ED Show video
New Hampshire has the lowest loan fees in the U.S.A.
New Hampshire lenders charge the lowest fees for home loans, according to a study described on bankrate.com. It's just one more reason to buy a home in the free state.
Free State Blogs
What's happening in New Hampshire with the Free State Project? Free State Blogs attempts to answer that question. Here's just a sampling of this month's blog entries:
The RidleyReport
Videographer Dave Ridley from NHFree.com is one of our Porcs on the scene in New Hampshire. See some of what's happening in the Free State on the RidleyReport.
Check the NH Calendars
The NH Underground Calendar lists liberty-oriented New Hampshire events. The NH Liberty Calendar also tracks NH events. Check the calendars before a visit or a move - you are welcome to attend NH events!
---
FSP News Thanks & Statistics
FSP News circulation: 14,065. Back issues are available. Got FSP news? Please submit content by the 12th of the month. Thank you to all advertisers and contributors.
FSP Participants - here are some quick links:
Check out NH housing and other community & logistical information at NH Info
Are you ready to join the FSP, move to New Hampshire and work with us towards Liberty in Our Lifetime? Join here!
---
Participants: 9,565
Participants in NH: 736
as of August 15, 2009
The Free State Project (FSP) is an effort to recruit 20,000 pro-liberty activists to move to New Hampshire, where they will exert the fullest practical effort toward the creation of a society in which the maximum role of government is the protection of life, liberty and property. The work of creating and sustaining such a society in New Hampshire is the job of residents, including project participants, not the Free State Project itself.
The FSP does not endorse any specific changes to government or strategies to achieve them. The FSP does not take positions on issues, candidates, legislation, places to move within New Hampshire, tactics or methods of action. The one stipulation the FSP does make is that people who promote violence, racial hatred, or bigotry are not welcome.
Reporting by the FSP on participant activity or NH events on the website, in the newsletter, or in any other place does not represent support or endorsement and may not portray the diversity of opinions and activities that exists among participants.